SculpSure and CoolSculpting are popular non-invasive body contouring treatments. They both use new advances in technology to eliminate unwanted fat. To be sure, there's no shortage of body sculpting services available today. The demand is high. The American Society of Plastic Surgeons reported that 357,938 non-invasive body contouring procedures were performed in 2020. That's only a 7% decrease from 2019, which could lead one to surmise that even a global pandemic had little effect on Americans' enthusiasm for body contouring! (1)
It's safe to say that non-invasive body contouring is one of the hottest trends in aesthetic medicine right now. Or is it the coolest? Before choosing any aesthetic treatment, it's crucial to understand how the procedure works and to consult with a medical professional to make sure that you get the best results possible.
At Channell Wellness & Aesthetics, we want our patients to feel comfortable choosing the services that will make them look and feel their very best. Investing in yourself should be rewarding. To learn more about the services we offer, contact us online or call 909-483-1236 to speak with one of our friendly staff members. We're conveniently located in Rancho Cucamonga to serve the Inland Empire and beyond.
What SculpSure and CoolSculpting Both Do
Both SculpSure and CoolSculpting are methods of fat removal, termed lipolysis. The prefix lipo comes from the Greek word for fat: lípos. In medical parlance, it's used anytime fat or lipids are referred to (eg. liposuction). "Lysis" is the breaking down of a cell membrane. Once the membrane is compromised, the cell dies. Noninvasive body contouring procedures like CoolSculpting and SculpSure disrupt the adipocyte (fat cell) membrane, causing the fat cell to die, and later be naturally flushed out by the body. (2)
Both SculpSure and CoolSculpting:
Are FDA approved
Require several sessions
Don't require anesthesia or recovery time
Take several weeks before results are visible
Offer permanent removal of fat cells
So What's the Difference?
CoolSculpting is a form of fat removal known as cryolipolysis. This causes the death of fat cells by subjecting them to cold temperatures. This leads to an inflammatory response on the cellular level, and the body responds by eliminating the fat cells. (3) SculpSure on the other hand, uses laser technology. The laser's low-frequency wavelength safely penetrates the skin without damaging it. This creates a thermal effect to heat, damage, and eventually destroy fat cells. (4)
Which is Better, SculpSure or CoolSculpting?
SculpSure and CoolSculpting are both proven effective in eliminating fat. However, the thermal effect that SculpSure's laser technology creates offers an additional and important benefit. The application of heat beneath the skin causes collagen fibers to thicken and contract, resulting in tighter, smoother skin. It also stimulates the production of additional collagen and elastin, resulting in the skin's continued improvement. (5) As many liposuction and weight loss patients are dismayed to discover, eliminating body fat often leads to loose, hanging skin. CoolSculpting does not address skin laxity. Additionally, CoolSculpting uses a suction device to attach to the area being treated. This often results in bruising and sensitivity. SculpSure applicators rest comfortably on top of the skin.
At Channell Aesthetics & Wellness, we are committed to giving our patients the very best that today's cosmetic technology has to offer. We are pleased to include SculpSure as one of our many services. To learn more about how our integrative approach to health and aesthetics has delighted and even changed the lives of our patients, take a look at our reviews.
Benefits of SculpSure
Each session is only 25 minutes
Can address multiple areas at once
Eliminates risks associated with CoolSculpting, like frostbite
Can correct liposuction irregularities
No itching, bruising, or sensitivity
Permanent fat removal
Promotes tighter, firmer skin
Candidates for SculpSure
Noninvasive body contouring techniques like SculpSure are ideal for patients who are looking to eliminate small amounts of body fat that have proved resistant to diet and exercise. SculpSure is not a weight loss solution. Candidates should be close to their target body weight and be willing to commit to leading a healthy lifestyle.
Have you had a liposuction procedure that left you dissatisfied with the results? SculpSure can help. SculpSure has been proven to be an effective way to smooth out the contour deformities that often result from liposuction. You'll be able to finally flatten any irregularities and get a little slimming touch up too – all without having to undergo another surgical procedure.
Personal Consultation
If you've been considering a body contouring procedure and want to learn more about whether SculpSure is right for you, schedule a personal consultation. When you arrive for your appointment at our Rancho Cucamonga offices, you'll be greeted by our friendly staff and made to feel right at home. We'll review your medical history and aesthetic goals to determine the best course of action to achieve your ideals.
Procedure
SculpSure is an effortless way to eliminate stubborn fat. During your SculpSure session, you'll be able to lay back and relax for the 25 minutes that each treatment lasts. But it's hardly a waste of time! SculpSure is FDA approved to treat the back, thighs, flanks, abdomen, or submental (under the chin) areas. Our laser technician will secure the flat laser applicator to your treatment area. SculpSure's applicators are made out of sapphire crystal that makes even contact with the skin and has a built-in cooling device to ensure that you remain comfortable. Most patients describe the sensation of SculpSure as a tingling sensation but don't find the experience unpleasant.
Results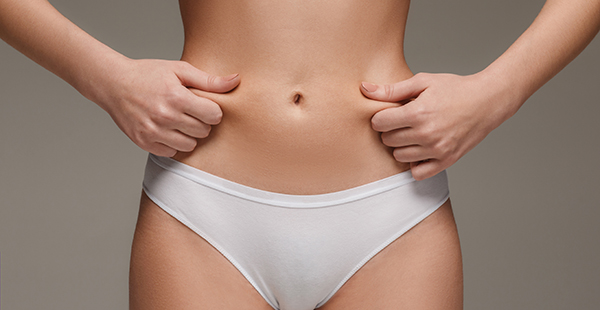 Once your 25-minute SculpSure has ended, you'll be able to return to the rest of your schedule. The short sessions make it a convenient treatment to squeeze in on a lunch break or in between appointments. Over the next few weeks, your body will gradually begin to eliminate the damaged fat cells, and you'll notice a subtle but steady improvement in your appearance. SculpSure treatments can be repeated at regular intervals as recommended by Dr. Channell until you finally achieve the body of your dreams. Once the fat cells are gone, they are gone forever! However, it's important to maintain a healthy lifestyle to continue to enjoy your results.
What Can't Lasers Do?
Lasers have become an invaluable tool in cosmetic procedures. At Channell Aesthetics & Wellness, we offer a wide range of services that utilize the latest in laser technology. Unwanted fat isn't the only thing that lasers can zap away!
Stretch Mark Removal
If you've been working hard to lose weight and are still bothered by the appearance of stretch marks t, our Stretch Mark Removal Treatment can help. This treatment uses the same principle as SculpSure's skin tightening abilities. Our Icon laser's light energy penetrates deep beneath the skin. The body responds by working to produce new collagen and elastin which repair the strained areas that display marks. Over the course of a few sessions, stretch marks fade until they are dramatically diminished.
Laser Scar Treatment
The Icon Laser is also an effective way to improve the appearance of scars. Whether you have lingering acne scars or an unwanted souvenir from a traumatic event or surgery, there's no reason to keep it around. Laser Scar Treatment stimulates the growth of new, healthier skin, and can lessen the raised, pitted, or discolored appearance that accompanies many scars.
Scar treatment sessions typically last around 30 minutes and require three to five sessions before the scar is completely eliminated.
Laser Hair Removal
Tired of struggling with unwanted hair? If you're going to be enjoying a new and improved physique thanks to SculpSure, make sure your skin is beach-ready year-round. Laser Hair Removal targets the pigmented root of hairs to damage the follicle and prevent future growth. After a few sessions, you'll enjoy smoother skin and avoid the uncomfortable hassle of traditional hair removal.
What Does SculpSure Cost in Rancho Cucamonga?
The price of your SculpSure session will depend on the area or areas that you'd like to treat. Your total cost will depend on how many sessions are needed to achieve your desired results. Remember, SculpSure works with your body's natural processes, so it will take several weeks to see your final results. When you discuss your goals during your personal consultation, we'll be able to give you an estimate of your SculpSure treatment cost based on an anticipated number of sessions. Ready to get started? Contact Channell Aesthetics and Wellness to schedule a personal consultation and learn more.
References
American Society of Plastic Surgeons. 2020 National Plastic Surgery Statistics. ; 2021. https://www.plasticsurgery.org/documents/News/Statistics/2020/plastic-surgery-statistics-report-2020.pdf
Yang A, Mottillo EP. Adipocyte lipolysis: from molecular mechanisms of regulation to disease and therapeutics. Biochemical Journal. 2020;477(5):985-1008. doi:10.1042/bcj20190468
Chopra, K., Tadisina, K. K., & Stevens, W. G. (2014). Cryolipolysis in aesthetic plastic surgery. Eplasty, 14, ic29. PMID: 25328574
Schilling L. 1060 nm Diode Hyperthermic Laser Lipolysis:The Latest in Non-Invasive Body Contouring. JDDonline – Journal of Drugs in Dermatology. Published December 29, 2016. Accessed July 29, 2021. https://jddonline.com/articles/dermatology/S1545961616P0048X
Vas K, Besenyi Z, Urbán S, et al. Efficacy and safety of long pulse 1064 and 2940 nm lasers in noninvasive lipolysis and skin tightening. Journal of Biophotonics. 2019;12(9). doi:10.1002/jbio.201900083