Lip Fillers
Conveniently located to serve the areas of Rancho Cucamonga, CA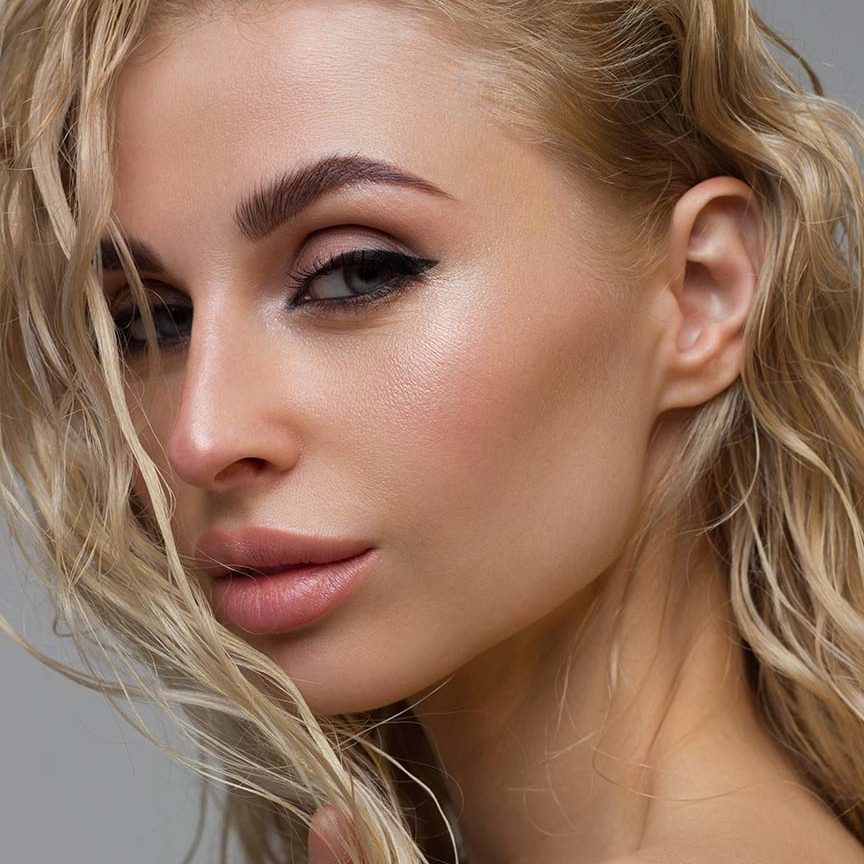 A lip filler procedure is a minimally-invasive way to increase lip volume, for fuller, more sensual lips. If you wish your lips weren't so thin, you're not alone. It's a common aesthetic complaint. It's also quite simple to address. Using the latest advanced dermal fillers, we provide natural-looking results tailored to your beauty goals.
Dermal fillers can provide striking lip enhancements, or subtle ones, without the hassle or risks of surgery. This is just one reason why they are so popular! They are an integral part of the current beauty standard, becoming a firm favorite with many high-profile actors and influencers. Brands like Juvéderm and Restylane have changed facial aesthetics, allowing people to achieve a powerful pout in one simple procedure.
Beautiful, plumper lips can be yours! Dr. Patricia Guevara-Channell is one of Rancho Cucamonga's premier Integrative and Aesthetic Medicine specialists. Dr. Guevara-Channell and her talented staff at Channell Wellness & Aesthetics help their patients choose the right filler for their needs to help them get the lips of their dreams. Set up a consultation by calling (909) 483-1236 or request an appointment online.
Simple, No-Hassle Lip Volume
Lip augmentation with fillers is a simple process. Formulated with safe, hypoallergenic ingredients, fillers rejuvenate the lips with long-lasting results. The most common active ingredient is hyaluronic acid (HA), which is a natural substance that helps skin retain moisture and volume. As well as providing more volume, fillers in the perioral area can also diminish signs of aging such as smile lines and wrinkles around the mouth. (1) Fillers can enlarge the size and shape of your lips with careful placement at the correct depth into targeted points on the lip contour. Dr. Guevara takes special care to ensure that you enjoy natural-looking results that suit your facial features and your age.
Our Lip Filler Options
Each and every patient can achieve their desired results with tailored formulations for lip enhancement and rejuvenation. Some of the most effective fillers available for the lips are in the Juvéderm and Restylane ranges. What's more, XC formulations contain lidocaine, a numbing agent that makes the injection process more comfortable.
Juvéderm Volbella XC
Juvéderm Volbella XC addresses wrinkles and fine lines around the mouth area (perioral lines) in addition to plumping the lips. This is the perfect choice for those who are looking for natural-looking lip rejuvenation and noticeably fuller lips.
Juvéderm Ultra XC
Juvéderm Ultra XC naturally plumps the lips and smooths lip lines. Formulated as a thick, cohesive gel, Ultra XC gives an extra boost of volume to the lips, perfect for those who are looking for significant results.
Restylane Kysse
Restylane Kysse adds volume to the lips while improving the appearance of fine lines and wrinkles.
Restylane Contour
Restylane Contour addresses visible signs of aging and helps defines lip shape while enhancing fullness.
Bellotero
Bellotero is another HA-based filler that can be used to restore lip volume. The flexible formula makes it ideal for smoothing perioral lines, which are also known as lipstick lines, or smoker's lines. Patients are able to retain normal expressive movement in the lips, which makes it perfect for natural-looking results.
Candidates
You are likely a good candidate for dermal fillers if you are physically healthy, and do not smoke. Your outcomes, and how long your results last, are likely to be improved if you don't smoke. One of the only health concerns that could affect your eligibility is a serious allergy to any of the ingredients. If you are prone to developing cold sores, we will advise you to take antiviral medications in the days before and after your treatment to minimize the risk of a breakout.
To schedule a personal consultation with us, call Channell Wellness & Aesthetics at (909) 483-1236 or fill out a contact form here.
Personal Consultation
During your personal consultation with us, you will find out for sure if you are a candidate for lip filler injections, according to your general health and aesthetic goals. We will discuss the basic details of the treatment process, the results you can expect, and any questions or concerns you have regarding the procedure.
Dr. Guevara or one of her skilled staff members will conduct a brief physical examination and a new patient intake interview. Since our top priority is achieving your aesthetic goals, we will create a personalized treatment plan with the dermal filler product that works best for you. Then, we will give you a detailed description of the treatment process, instructions, and any other important information you should know. Before leaving the appointment, we will provide you with a list of preparatory steps to take before treatment.
Preparing for the Procedure
Lip augmentation is a quick, non-invasive procedure, but there are still a few essential steps to take to prepare for your treatment session.
Stay away from intense heat on the day of your treatment, including hot showers, hot tubs, and saunas.
Do not take aspirin, Advil, Ibuprofen, and any other blood thinning medications before treatment, as these can worsen swelling and bruising.
Avoid alcohol consumption prior to treatment, as alcoholic beverages can negatively impact blood clotting and wound healing.
Procedure
Lip augmentation is typically a quick and simple procedure! Once you arrive, we will first make sure that the injection sites are clean and ready for treatment. Then, she will ensure your comfort by applying a topical anesthetic, which will help to reduce discomfort during treatment. Then, we will carefully and evenly administer the dermal fillers to your target areas.
The injection process takes around 20 minutes. Since there is no required downtime, you may leave immediately afterward and resume your normal activities.
Post-Treatment Care Instructions
While there are minimal post-treatment requirements, there are still a few cautionary steps to take to ensure the best results.
Do not touch or wash the treated area for at least 4 hours after treatment.
Avoid physical exercise for at least 24 hours after filler injections, as strenuous activity may trigger swelling.
Wait at least 90 minutes before applying SPF or cosmetic products.
For at least 24-48 hours, do not take blood-thinning medications such as aspirin, as these products can worsen bruising.
Lip Augmentation Results
You can expect to see fuller, plumper, and more proportionate lips immediately after your procedure. Swelling and bruising usually resolve quickly. The final results of your lip filler procedure will be visible once the swelling subsides, which is usually no longer than a few days.
How Long Do Lip Fillers Last?
Channel Wellness & Aesthetics uses lip filler products that provide long-lasting results. Since each patient has a unique and personalized treatment plan, the longevity of results will vary. Factors that influence results include the type of dermal lip filler, the number of injections, your age, and general health factors. However, if your treatment results begin to fade, Dr. Guevara-Channell can help you quickly restore your lip volume with maintenance treatments.
Cost of Lip Fillers in Rancho Cucamonga
Since lip augmentation is a highly customizable treatment, the overall cost will depend on a number of factors, such as the number of injections required to achieve desired results.
During your consultation, Dr. Guevara-Channell will discuss pricing with you and provide an estimated cost after determining a procedural plan. You can reach our Rancho Cucamonga location by calling (909) 483-1236 or filling out an online contact form.
Visit our blog for more information about our services.
FAQ
Do lip fillers hurt?
It's a common fear that lip filler injections will be painful. However, your injector may use topical anesthetic, which minimizes discomfort as much as possible. Some filler formulations also contain lidocaine to numb the treatment area. You may feel a slight pinch receiving the injectable treatment, although it should be a relatively mild sensation.
What if I don't like the results?
HA fillers can be dissolved with a simple injection, reversing their effects. If you receive injections and the results aren't what you were expecting, your doctor will inject your lips with hyaluronidase, an enzyme that breaks down the fillers in minutes. 
Will the dermal filler feel normal in my lips?
Immediately after the procedure, you may experience some mild discomfort and numbness which will quickly resolve. In the days that follow, as the filler settles. You shouldn't experience any difference in feel or texture.
Can lip fillers look natural?
Yes! But finding the right professional to perform the procedure is very important. Although sometimes, lip injections can end up looking disproportionate, uneven, and fake, having a skilled injector means you can achieve natural-looking results with a healthy boost of volume. 
Can I get lip fillers if I am pregnant?  
If you are pregnant or breastfeeding, we do not recommend getting fillers. While procedural risks are not common, it's still best to remain cautious.
How often will I need to get lip filler maintenance?
Every patient responds differently to treatment. Lip injection results should last for at least 6 months after treatment, however many patients enjoy results for up to a year.
References
Bass LS. Injectable Filler Techniques for Facial Rejuvenation, Volumization, and Augmentation. Facial Plast Surg Clin North Am. 2015;23(4):479-488. doi:10.1016/j.fsc.2015.07.004
Votto SS, Read-Fuller A, Reddy L. Lip Augmentation. Oral Maxillofac Surg Clin North Am. 2021;33(2):185-195. doi:10.1016/j.coms.2021.01.004