Hair Restoration Treatment Programs
Conveniently located to serve the areas of Rancho Cucamonga, CA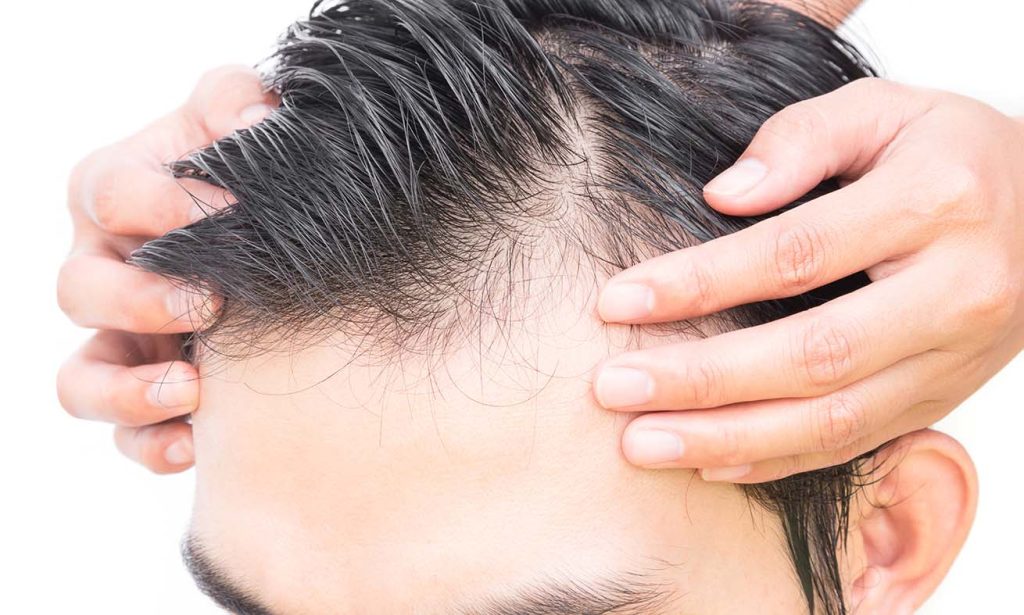 A non-surgical hair treatment program is a healthy, personalized, risk-free plan to help patients achieve thicker, stronger hair. Thinning hair in any area of the scalp can cause alarm. It may be caused by several factors, from our genes, to our diet, to our scalp health. But unfortunately, simply knowing what causes our hair loss won't help us regain what we have lost.
Channell Wellness & Aesthetics provides an effective hair restoration treatment program package with no lengthy transplantation procedure, no uncomfortable recovery period, and infinitely lower risks than invasive follicular unit extraction (FUE). Find a gentler solution to thinning hair with the help of integrative medicine and aesthetics expert Dr. Patricia Guevara-Channell. Our three-step treatment package includes preparatory in-office scalp treatments, invigorating platelet-rich-plasma, and effective hair care products and supplements.
Find the winning formula to enhance your hair growth. Call our Rancho Cucamonga office at (909) 483-1236 to book your personal hair restoration consultation. Dr. Guevara-Channell appreciates how busy her patient's lives can be. And if a phone call doesn't fit into your schedule, please use our online form to arrange your appointment.
Hope For Thinning Hair
Hair loss affects men and women alike. Although male pattern hair loss (androgenetic alopecia) is more common, thinning hair on the scalp is also an unnerving and embarrassing reality for many women. Whatever difficulties patients of both sexes face, they all appreciate straightforward ways to help them to regain their scalp and hair health.
What Causes Hair Loss?
We are quick to blame our genes and our hormones for hair loss. And while they are likely culprits, there are usually several factors. Weakened hair can follicles, and make our hair brittle and dull. Nutritional deficiencies, stress, illness, and pollutants in the atmosphere can take their toll on our hair, our skin, and our overall appearance. Even the recent Covid-19 pandemic has left us burnt out and stressed out – a dangerous combination for maintaining lustrous, voluminous hair.
Thankfully, there are effective hair restoration treatments that merge evidence-based data with nutrient-rich products and minimally-invasive PRP techniques. Using this multifaceted approach, patients can now achieve a fuller head of hair without invasive surgery.
What About Hair Transplant Surgery?
Follicular unit extraction (FUE) is one of the latest ways to increase hair density. But it comes at a cost! There are a host of issues a patient may not be prepared for. As an incredibly long procedure, upward of 4 hours, it's both time-consuming and costly. And the more hair you have lost, the more the procedure costs, as grafts are priced individually. Some patients also discover that recovery is uncomfortable and frustrating. With non-surgical hair restoration there is no long procedure, and no lengthy recovery period.
Call Channell Wellness & Aesthetics at (909) 483-1236 to sign up for a tailored restorative treatment package for your hair.
3-Step Non-Surgical Hair Restoration
Our treatment plans are individualized to provide you with a straightforward hair restoration with minimal hassle, and measurable results.
Step 1: Keravive

Healthy hair starts at the follicle. It cleanses and refreshes the scalp using HydraFacial technology, a vortex-suction system that is both comfortable and effective.
Step 2: PRP

With PRP treatment, your clinician uses your own specially-treated blood plasma in the scalp. The vital growth factors in plasma support hair follicle strength, promote healthy blood supply, and pave the way for robust hair growth.
Step 3: Viviscal

Viviscal is a nourishing hair treatment that incorporates Densifying Shampoo, Densifying Conditioner, and scientifically formulated oral supplements. It maintains healthy hair, promoting growth with key vitamins & minerals.
Pre-Treatment Testing
Dr. Guevara-Channell not only provides hair loss treatments, she also enables patients to discover the likely cause of their hair loss. For many people, genetics are a large factor, but for others, hormonal imbalances and a diet lacking in certain essential nutrients may be significant factors.
Hormone Tests
If your hair has begun to shed at a faster rate, especially if you are a woman, hormonal changes may be the cause. Dr. Guevara-Channell will perform hormone testing to assess your hormone levels and check for any irregularities in the data. Hormones closely related to hair loss include the following.
Testosterone
Thyroid Hormones
Dehydroepiandrosterone (DHEA)
Prolactin
Luteinizing Hormone
Follicle Stimulating Hormone
Nutritional Tests
A nutrient-deficient diet can affect hair growth and structure. (1) Several vitamins and minerals are associated with hair condition and how well it grows, including B12, biotin, iron, selenium, and zinc. Dr. Guevarra-Channell will perform nutrition testing to determine if gaps in your nutrition are the reason for your hair loss.
Hair Restoration Protocol
Dr. Guevarra-Channell creates tailored treatment plans for hair restoration, to increase your hair growth and keep existing hair strong and well-conditioned.
Keravive Scalp Stimulation
Keravive is a unique, in-office treatment to kickstart hair growth by clearing impurities and surface buildup. It can also help to solve dryness and strand weakness. It is part of the popular HydraFacial platform, an effective non-invasive facial rejuvenation procedure.
Suction-based treatment sessions are performed in-office. A specially-designed handpiece uses patented vortex technology to clear an itchy, irritated scalp and replenish it with vital nutrients.
It supplies the hair follicles with enriching peptides and growth factors, with topical serum boosters applied directly to the scalp. Peptides are amino acids that promote cellular turnover where there is damage. This makes them the perfect treatment for a delicate scalp. (2) Growth factors are similar to peptides. These molecules encourage cells to multiply, supporting healthy hair follicles and encouraging hair growth.
Keravive can help in the following areas.
Cleanses & Exfoliates: Unclogs hair follicles and clears dead skin congestion.
Hydrates and Nourishes: Floods scalp with peptides and growth factors.
Extends & Enhances: Keravive Peptide Complex Spray makes results last.
Dr. Guevara-Channell recommends Keravive as part of a combination treatment plan for hair loss. It is particularly effective as part of our three-step package, which includes PRP and Viviscal.
Platelet-Rich Plasma Treatment
PRP treatment is changing the way we treat hair loss. It's a simple process with some complex science behind it. Platelets and growth factors help the body to heal and regenerate tissues. And both are present in high concentrations in plasma, the fluid component of blood. In a PRP procedure, Dr. Guevara-Channell will take three straightforward steps to help you to restore your hair's thickness and shine.
Step 1: Blood is collected from the arm with a thin needle. The small amount of blood is placed in vials ready for treatment.
Step 2: The blood vials are spun for a set period of time at a controlled rate. This separates the blood into its components, including the vital plasma layer.
Step 3: After the PRP has been prepared, she will inject it into the scalp to stimulate follicle health and to renew and regenerate the surface of the scalp.
For many years, PRP has been used to treat a wide range of problems. PRP can be a valuable asset in tissue healing after injury. It can also be used very successfully in microneedling procedures and treatments to enhance sexual wellness. PRP therapy can support healthy hair growth in patients with androgenetic alopecia with minimal side-effects and downtime. (3)
Viviscal Topical Treatments & Oral Supplements
As thinning hair becomes thicker, your scalp needs a maintenance system to ensure you keep your results. The Viviscal system involves shampoo conditioner and dietary supplements. Oral supplements are known to be helpful for men with androgenetic alopecia. Supplementing can also help women with thinning hair as a result of stress, hormonal influences, gaps in nutrition and abnormal menstrual cycles. (4)
Densifying Shampoo & Conditioner
Suitable for normal and fine hair, Viviscal topical treatments are enriched with biotin, keratin, and zinc to help you maintain hair strength. They also contain some of nature's most healing, conditioning, refreshing ingredients. These densifying products moisturize hair strands without weighing it down. This leaves the scalp refreshed, and the hair silky soft, but strong.
Among their many essential ingredients, Densifying Shampoo and Densifying Conditioner contain the following
Panthenol
Eucalyptus Oil
Lavandula Hybrida Oil
Cinnamomum Bark Oil
Patchouli Oil
Citrus Limon (Lemon)
Citrus Nobilis (Mandarin)
Citrus Aurantium Amara (Bitter Orange)
Coriander Seed Oil
Dietary Supplements
Viviscal supplements contain AminoMar complex, a natural collagen supplement derived from marine organisms. These proteins help to create a hospitable environment for hair growth. Among other key ingredients, Viviscal contains the following.
Fish Oil – Provides essential omega-3 fatty acids.
Silica – Stabilizes calcium and magnesium to balance hormones.
Niacin – Vitamin B3 encourages blood flow to the hair follicles.
Biotin – Speeds growth and strengthens hair strands.
Vitamin C – Promotes collagen production.
Zinc – Minimized dandruff and promotes scalp health.
Can Anyone Use Viviscal Supplements?
Viviscal supplements are only suitable for people over the age of 18. Most importantly, Viviscal is not suitable for those with a shellfish allergy due to its ingredients. Supplementing with Viviscal if you are pregnant or breastfeeding is not recommended. As with any supplement, you should consult Dr. Guevara-Channell before taking Viviscal.
Cost of Non-Surgical Hair Restoration in Rancho Cucamonga
The cost of your hair restoration treatment package will vary according to your needs. Please see our website for financing options. To book a personal consultation with Dr. Guevara-Channell, please call our Rancho Cucamonga office at (909) 483-1236, or fill out our simple inquiry form. We look forward to customizing a treatment plan for your hair restoration needs.
See the Channell Wellness & Aesthetics blog for more details about PRP, hormone therapy, and aesthetic treatments such as laser and dermal filler procedures. You can also like and follow us on Instagram and Facebook.
References