Vaginal Rejuvenation
Conveniently located to serve the areas of Rancho Cucamonga, CA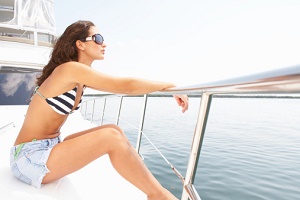 According to the North American Menopause Society, as many as 45% of postmenopausal women suffer from vaginal atrophy, which can make women uncomfortable in their daily life and sexual relationships. Dr. Patricia Guevara-Channell at Channell Wellness & Aesthetics uses the revolutionary MonaLisa Touch™ laser to help women in Rancho Cucamonga, California, reduce the effects of hormonal changes with vaginal rejuvenation, without undergoing surgery or hormone replacement therapy.
What causes vaginal atrophy?
Vaginal atrophy is a common condition that refers to the thinning, drying, and inflammation of the vaginal walls because of a reduction in estrogen. This decrease in estrogen production is common among pre- or postmenopausal women, breast cancer survivors, and women who have undergone a hysterectomy.
Symptoms of vaginal atrophy can include:
Vaginal dryness or itchiness
Vaginal discharge
Burning sensations
Urinary urgency and incontinence
Vaginal laxity
Pain during intercourse
If you experience these common symptoms, you are not alone. Channell Wellness & Aesthetics can help you restore your vaginal health and functionality, as well as boost your confidence in yourself and your relationships.
What vaginal rejuvenation treatment options are available?
Since every woman's experience is different, your vaginal rejuvenation treatment is to your needs and history. For some women, topical treatments provide sufficient relief while others require different restorative procedures like those offered at Channell Wellness & Aesthetics.
Vaginal rejuvenation treatments can include medication, topical treatments, hormone therapy, surgical procedures, and nonsurgical procedures like MonaLisa Touch laser therapy. Dr. Guevara-Channel and the team at Channell Wellness & Aesthetics will help you determine which treatments are appropriate for your health.
How does the MonaLisa Touch laser work to treat vaginal atrophy?
The MonaLisa Touch is a minimally invasive laser procedure that aims to reverse vaginal atrophy which is often caused by hormonal changes.
During the procedure, Dr. Guevara-Channell inserts the laser into the vagina. The laser pulses against the vaginal wall, stimulating new collagen production in the treatment area. Blood flow and lubrication should increase following laser treatment, revitalizing normal function to the vagina.
In general, Dr. Guevara-Channel recommends three sessions to achieve the best results.
Laser vaginal rejuvenation won't be painful. If desired, she can administer an anesthetic cream to limit discomfort before the treatment begins.
You can resume normal activity immediately following the procedure, but patients should abstain from sexual activity for a couple of days following the procedure to ensure best results.